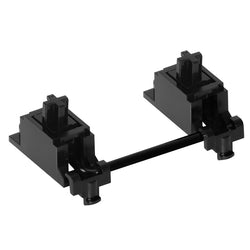 Domikey
Durock V2 PCB Screw-in Keyboard Stabilizer (Black Housing Black Wire)
Specs:
The upgrade Stabilizers V2 is designed to meet various typing habits. The DUROCK Stabilizer V1 is already well designed to prevent stripping of the wires. If there were still wire dropping during your normal typing way, then the upgrade V2 version will suit you better. If there's no such problem for you on V1, then both version are workable for you.
1. Designed for MX-compatible PCBs. 2. Smokey/Clear Transparent housings and the Golden Wires set gives your board a clear and golden edge. 3. The outer casing and parts, specifically made to prevent stripping of the threads, different from regular Cherry PCB mount stabilizers. 4. Nylon PA outer Casing-- Higher Hardness, Gold-plated Stainless Steel Wires and Screws-- Oxidation Resistance. 5. Pre-clipped Insert method, no need to clip the feet.
Stabilizer yang didapat bukan semua di gambar, tapi harus dipilih per ukuran ya gan. Untuk pembelian, bisa dipilih ukuran sesuai dengan kebutuhan keyboard masing-masing (bisa research dahulu ukuran dan jumlah stabilizer yang dibutuhkan).
Untuk setiap pembelian satu item akan mendapatkan: 2x Smokey housing, 2x Smokey pre-clipped stem, 2 Gold plated screw, 1 Gold plated wire (2u/6.25u/7u sesuai pilihan ukuran), 2x washer
Keterangan untuk pilihan Kit:
Kit TKL 6.25u -> (4x2u + 1x6.25u)
Kit TKL 7u -> (4x2u + 1x7u)
Kit Full 6.25u -> (7x2u + 1x6.25u)
Kit Full 7u -> (7x2u + 1x7u)
Stabilizer yang dikirim dalam kondisi belum dirakit dan dipacking kardus supaya lebih aman (tidak patah/bengkok).